WELCOME TO SKYLIGHT FESTIVAL
Nurturing a narrative of hope, joy, and transformation.
As ancient people looked to the heavens and celebrated creation, we gather around the skylight to dream about what is possible. No matter your background, you are welcome here, at the Skylight Festival.
Founded in 2015 by people passionate about the arts, faith, and justice, Skylight is a celebratory and creative space where diverse communities connect to explore arts, faith, peace and justice.
LATEST  UPDATES!
Our dates for 2022 have been chosen!
JULY 15 – 17, 2022
We're thrilled to go back to a three-day format after our curtailed festival last year! We invite you to catch a glimpse of community, creativity, faith, and hope with us as we learn from and enjoy the program and one another!
NEW IN 2022: VILLAGES!
This year, we encourage you to bring your village to Skylight (aka your community/family/ organization/etc. …). We're happy to provide you a small plot of land for the weekend for your village to gather or connect throughout the day.  If your village is interested in contributing a performance, workshop, panel, forum, etc. as part of the open space program, talk to the Skylight Program Team to find out how. Not only do you get to participate in a great festival, you can bring that shared experience home with you, continuing to nurture your village after the music fades.
Support our new FUNdraiser!
Feel free to right click and save the image and post it on your social media or share with others.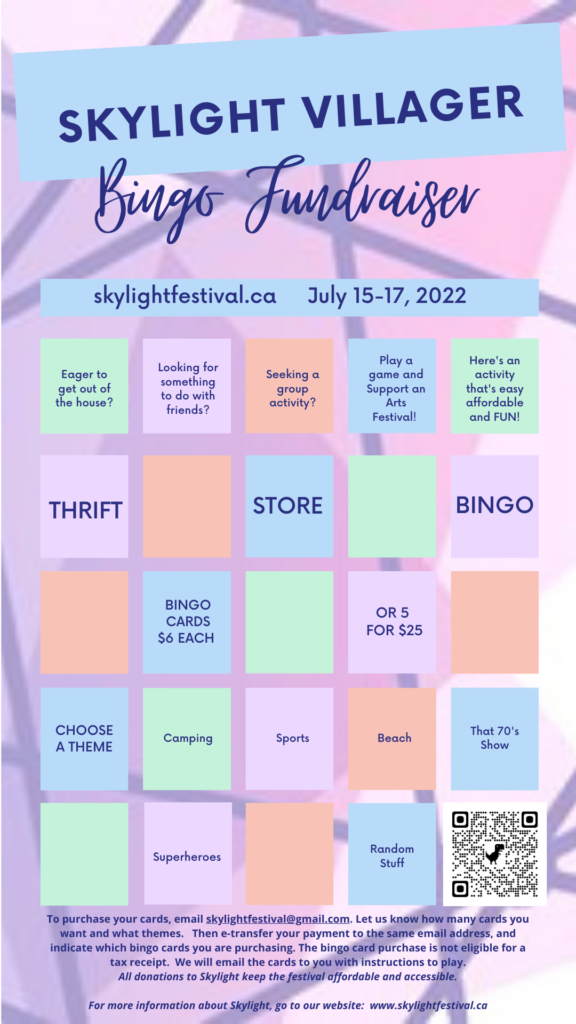 Check out our 2021 promotional video here!
Remember that you are the ONE for Skylight, when you see the night sky, look at the infinity of stars and think about what gifts you bring to the world.  We are completely supported by donations and funding.  Your support in appreciated!
00

Days

00

Hours

00

Minutes

00

Seconds